You may have heard about the Cane Corso or the Neapolitan Mastiff and have a rough idea of how they are. If you want to get to know them better and maybe identify which one could be the perfect choice for you, you have come to the right place.
The Cane Corso and the Neapolitan Mastiff are both Italian breeds that are renowned for being very skilled guard dogs. They are powerful dogs and their origin can be dated back to the Roman Empire. While they can be wary with strangers, Cane Corsos and Neapolitan Mastiffs are sweet and calm with their human family and the people they know.
These two breeds have a lot in common and it has been proven that the Cane Corso descends directly from the Neapolitan Mastiff. In this article, we will go through the characteristics of these dogs and also see what differences there are between the two.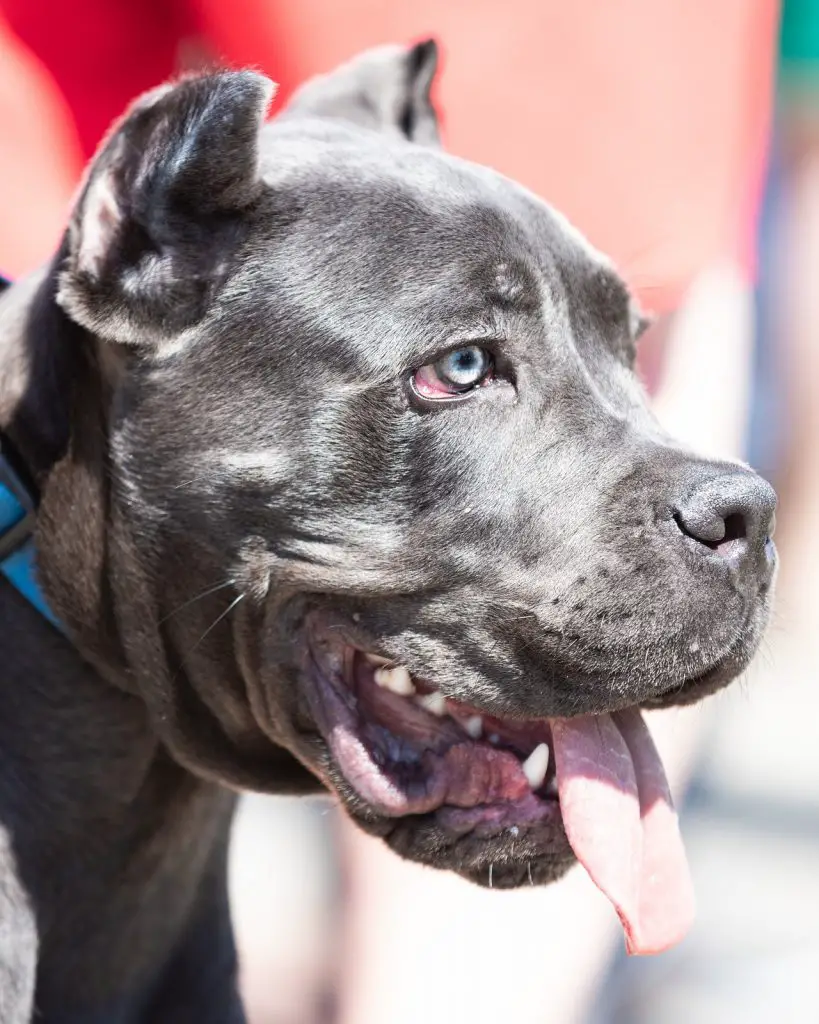 Cane Corso


The Cane Corso is a large dog that descends from the ancient molossoids that used to live in Italy during Roman times. These dogs were very popular until the 1950s when they started to be supplanted by other breeds. It was only around the 1980s when they were rediscovered by a group of breeders that created the first Cane Corso Breed Society.

The height of a Cane Corso should be between 23 and 26 inches for females and 24 and 28 inches for males. The weight can range from 88 to 99 pounds for a female and from 99 and 110 pounds for a male. These dogs are very strong and were mainly used as working dogs to herd cattle and help around the farm.
Breed Characteristics
Cane Corsos are energetic and powerful dogs that need to be stimulated both physically and mentally. They need to be able to go out for a run at least twice a day in order to keep them happy. Leaving them in the house or in the garden all day while you are at work isn't an option. They will soon become bored and could develop destructive behaviors. These can include chewing your favorite piece of furniture to reduce their high levels of stress.
Cane Corsos make great guard dogs not only for their size but also for their character. According to the standard for this breed, these dogs should be aggressive only when protecting their owner. In any other circumstance, they should be calm and peaceful.
They have to be handled by someone who shows firm leadership because in the wrong hands these dogs can be dangerous. For this reason, they shouldn't be chosen by first-time owners. They also need to socialize with other dogs and humans from a very early age. Obedience training is a must since Cane Corsos often display dominant behaviors that need to be nipped in the bud.
Grooming



The Cane Corso has a short coat that is double-layered. He has an undercoat to protect him from the cold and a topcoat with guard hairs to safeguard his skin. He will shed and lose all of his undercoat twice a year, in spring and in autumn. This way he will have a lighter coat in the summer and a thicker one in the winter.
Cane Corsos are considered medium-shedders. This means that during the shedding seasons you won't be smothered in hairs like a husky owner, but you won't be laughing too much either. Be ready to brush your Cane Corso on a daily basis in spring and autumn, and at least once a week during the rest of the year.
A bristle brush or a grooming glove will help you get rid of the dead hairs and therefore limit the amount of fluff flying around the house. The Cane Corso's coat is usually black, but it can also be light or dark gray, red, or fawn. A combination of these colors in different streaks is quite common too.



Health
The Cane Corso is usually a healthy breed that has an average lifespan of 9 years. If you decide to get this type of dog, be sure to go to a proper breeder. He will be able to provide health clearances for genetic diseases. The most common health issues for a Cane Corso are:
Hip Dysplasia
Bloat (Gastric Tortion)
Eyelid Abnormalities (such as Entropion or Ectoprion)
Demodectic Mange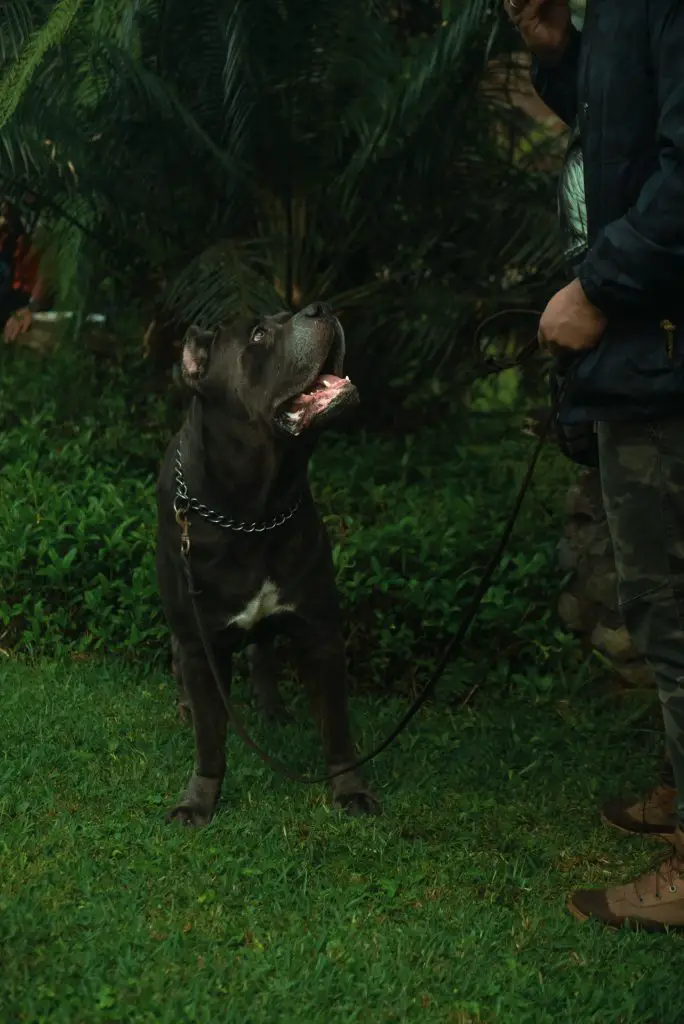 Neapolitan Mastiff
The Neapolitan Mastiff (or Neo Mastiff) is a giant dog that originated in Ancient Rome over two thousand years ago. It was used to catch large prey in hunting and as a guard dog. Farmers in the South of Italy used to breed Neos also for herding cattle and as family dogs. The name "Neapolitan" comes from the city of Naples where it is believed they originated and where they participated for the first time at a dog show in 1946.
These dogs are quite impressive to look at and their weight, according to the breed standard, should be between 110 and 130 pounds for females and between 130 and 150 pounds for males. Their height should range from 24 to 27 inches for females and 26 to 30 inches for males.
Breed Characteristics



Despite their size and strength, Neapolitan Mastiffs aren't energetic dogs. They love to take frequent naps and lie on soft surfaces for most of the day. Nonetheless, in order to keep them healthy and happy, they need to go out for walks at least twice a day for a minimum of 30 minutes each time.
These dogs are not made for running or taking part in any prolonged physical activity. The fact that they are so large makes them prone to overheating which can be fatal for them, especially during the hot weather. Always take water when you go out with your Neo and keep him coll as much as possible.
Neapolitan Mastiffs are very affectionate to their loved ones but can be wary towards strangers. For this reason, it is crucial that they start socializing with other dogs and people from a very early age. Puppy training should also start at around 8 weeks so that they will be easier to manage as adults.




Grooming
Thanks to their short coats, Neos are easy to maintain and don't require too much attention. Brushing them once a week with a bristle brush will be more than enough to keep them clean. These dogs have a single-layer coat and shed moderately all year round.
Neapolitan Mastiffs don't need to be bathed frequently. For most of them going for a wash two or three times a year will be fine. It is important to keep the wrinkly skin on their face clean and this can be easily done with a wet towel. Always dry their skin so that they don't develop dermatitis and fungal infections.
Health
Neapolitan Mastiffs are usually healthy dogs that have an average lifespan of 7 years. The most common health conditions that they can develop are:
Arthritis
Hip Dysplasia
Bloat (Gastric Tortion)
Eyelid Abnormalities (such as Entropion or Ectoprion)
Final Thoughts
The Cane Corso and the Neapolitan Mastiff are both large dog breeds that can trace their roots back to the Roman Empire. They make great guard dogs and if properly trained can be affectionate family dogs as well. These dogs need an experienced owner that can provide firm leadership. In the wrong hands, they can develop aggressive tendencies that won't be easy to eradicate.
While the Cane Corso is an energetic dog that needs physical activity, the Neapolitan Mastiff is more laid back and likes to sleep most of the time. Taking care of the coat of these dogs isn't too difficult and won't require too much of your time. Unlike the Neapolitan Mastiff, the Cane Corso has a double-layer coat that will shed completely twice a year.